GERMAN CTO & CHIP MEETING
---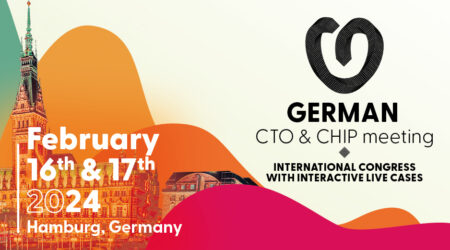 congress program
Register
We are pleased to announce that the first edition of the German CTO & CHIP Meeting will take place in Hamburg, Germany on the 16th and 17th of February.
Complex PCI and CTO procedures are of great interest around the world. The German CTO & CHIP Meeting will be an established meeting for German and international experts.

Our purpose is clear : unravel the complexities of high-risk PCI and CTO treatment and explore breakthrough strategies that have the potential to reshape the landscape of interventional cardiology.

With enthusiasm and appreciation, let us embark on this collective journey of exploration, collaboration and innovation. A journey that promises to reshape the future of CTO management and high-risk PCI, ultimately improving the lives of those we serve, with the support of our valued industry partners.

Topics will range from reviewing the basics, intravascular imaging, and tips & tricks to mastering complex techniques. State-of-the-art lectures, live-in-a-box case presentations, live cases performed by international experts and interactive discussions covering all of the hot topics in CTO and high-risk PCI (CHIP).

See you in Hamburg!